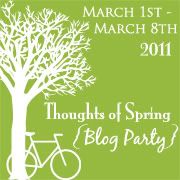 Hey!! The blog party at Lynnette Kraft's is ON!!! There's giveaways and lots of fun to be had!! Join on in won'tcha?!!
Q & A...
How would people describe your personality? (If they could only use ONE word.) Are they right?
Goofy! Absolutely. Awww Shucks! I hope they mean it in a loving, endearing way. :-)
What celebrity/celebrities would create a "Star-Struck" feeling if you saw them in real life?
Leonard Nimoy/Spock, Patrick Stewart/Jean-Luc Picard, William Shatner/James T. Kirk Yep! I'm a Trekkie! Honestly, I would be just fine if I never meet a celebrity!! I mean, what are the chances?
Who is your favorite blogger? Why?
Gosh, I love all my bloggyland friends and love each of their blogs for their own uniqueness. Some blogs are creative, some thought provoking, some just sharing daily life (like mine), some funny and inspiring. They're all great!!
What is your comfort food/drink?
Chocolate and Pepsi--neither of which I am supposed to have since anymore since I was diagnosed with diabetes last summer. Boo Hoo!! I do occasionally indulge though.
Be brave – tell us something very random and weird about yourself.
I'm always the first to laugh at myself. I figure that if I do something stupid others are gonna laugh--so I might as well give them permission by laughing first! That doesn't sound too weird but most people take themselves WAY too seriously!!
Do you have a strong desire to do something you've never done? What is it?
Hang Glide!! But I'm scared of heights. Oh how cool it would be to jump off a cliff with "wings" and soar with the eagles!
Movies: Action, Drama, Romantic Comedy, Documentary, Comedy? What are your favorite genres?
Comedy--but not too crude. I like a lot of "kids" movies that are funny. I like action too. Our family favorite has been the Stargate SG1 and Atlantis series! I cannot count how many times we've watched them through!
Books: Fiction, Non-Fiction, Romance, Biographies, True Stories, Self-Help, Devotional/Study? What are your favorite types of reading material?
Fiction and Self Help--sometimes at the same time with one book on the table and another by my bed. But I read a little bit of everything--except for secular romance novels (and usually not Christian ones either with the exception of Beverly Lewis if you can classify those as "romance")
Music: Funk, Rock, Country, Jazz, Classical, Film Score, Blues, Classic Rock, Crooner, Alternative, Heavy Metal, Techno? What are your favorite types?
Nature sounds with instrumental, Alternative Christian (Hard Rock, Rap, Screamo) Quite the combination, huh? I like soundtracks too--and yes, Jared Kraft's is fantastic!!
If you inherited a million dollars, what is the first thing you would do with your money?
Buy acreage in the San Juan Islands in Washington.
Name one weakness of yours (confession is good for the soul).
Not sticking to my low carb diet like I should!!
If you could live anywhere at all (and take all your loved ones with you), where would you go?
The San Juan Islands in Washington. :-)
Strange Talent? Can you juggle basketballs, put your legs behind your head or some perform some other strange feat?
Nothing strange--I'm pretty "normal".
What's something you consider yourself to be good at? (Don't worry, it's not bragging, it's acknowledging a God given gift).
Cooking from scratch maybe. Perhaps I'm a little too good!
What is one of your favorite things to catch a whiff of?
Freshly mown grass and lilacs.
When you leave a social gathering, do you wish: You would have talked more or You would have talked less?
Usually more. I'm pretty shy.
If money wasn't a factor, what stores would you shop in?
Hobby Lobby, Michaels, JoAnns, Whole Foods Mkt.
What is your greatest fear?
Drowning or being trapped under water.
What is your greatest accomplishment?
Being married for 29 1/2 years.
What are your favorite animals?
As an animal lover, it's hard to choose. We've owned dogs, cats and birds nearly all of my life so probably those three but not necessarily in that order. My favorite pet has been our White Faced Cockatiel who accidentally got out the door and flew away. :-( I'd love to get another but am afraid that there would never be another like our Polly.
Are you a hopeless romantic?
I think being "romantic" is way more than about physical romance between a couple. I am terrible about seeing life through rose colored glasses much of the time. It doesn't sound like a bad thing but most people nowadays consider that a character flaw. I just can't help myself. So yes, I guess that qualifies as "hopeless".
What movie or book character can you most relate to?
Pollyanna